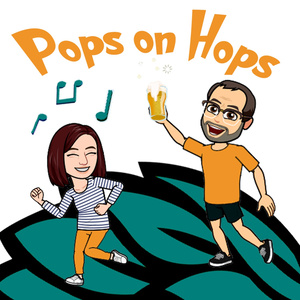 Barry and Abigail discuss Off to the Races by Jukebox the Ghost and sample a flight of four beers (Very Vanilla Caramel Cream Ale, Midnight Marauder, Mexican Standoff, and Ghost Ship) from Due South Brewing Company in Boynton Beach, Florida.
Many thanks to Joe Latona, taproom coordinator of Due South Brewing Company, for speaking with us and for allowing us to invade the taproom for an afternoon!
You can follow Due South Brewing Company on Facebook, Instagram, and Twitter.
Synchronicity II by The Police... because there is more to life than going to work and going home.
Fred Astaire's famous ceiling dance: Try this backwards and in high heels, Ginger Rogers!
Are you feeling it now, Mr. Krabs?
Up next… Young and Courageous by Tides of Man
Follow Barry or Abigail on Untappd to see what we're drinking when we're not on mic!
Facebook | Instagram | Twitter | YouTube | Website | Email us
--- Send in a voice message: https://podcasters.spotify.com/pod/show/pops-on-hops-podcast/message