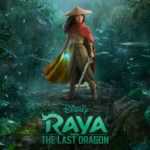 @MrEricAlmighty and @PhilTheFilipino are here to kick off the many reviews of March, starting with Disney's latest release, Raya and the Last Dragon!

Long ago, in the fantasy world of Kumandra, humans and dragons lived together in harmony. However, when sinister monsters known as the Druun threatened the land, the dragons sacrificed themselves to save humanity. Now, 500 years later, those same monsters have returned, and it's up to a lone warrior to track down the last dragon and stop the Druun for good.

Did they enjoy the film or did it fall short of expectations? We'll let you know if Raya is worth your time, and more importantly, your money!

🔻[*AFFILIATE LINKS BELOW*] - Depending on your streaming app, links may be distorted in text. If so, you can find this episode on our main site at waitforitpodcast.buzzsprout.com🔺

🔻Want to start podcasting? Use our referral link to Buzzsprout for a $20 Amazon Gift Card and to support our show: https://www.buzzsprout.com/?referrer_id=872095🔺

🔻BACKGROUND MUSIC PROVIDED BY:
Music By: "After The Fall"
Track Name: "Atlas"
Published by: Chill Out Records
- Source: https://goo.gl/fh3rEJ​
Official After The Fall YouTube Channel Below
https://www.youtube.com/channel/UCGQE...​
License: Creative Commons Attribution-ShareAlike 4.0 International (CC BY-SA 4.0)
Full license here: https://creativecommons.org/licenses🔺
Buzzsprout - Let's get your podcast launched!
Start for FREE
Disclaimer: This post contains affiliate links. If you make a purchase, I may receive a commission at no extra cost to you.