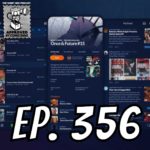 Jordan Blanco is the creator of the ultimate social network for comic book fans: League of Comic Geeks. The platform helps collectors discover and discuss comics, organize their collections, and more. Jordan talks with Badr about the origin of the League, and how he's helping improve the comic experience for readers, retailers, and comic creators around the world.

SUPPORT THE SHOW: 
Want to hear these episodes the second we post them? Vote on episode topics?  Subscribe to our Patreon! 
HELPFUL LINKS:
NEXT WEEK: Moon Knight Ep.3 Rewatch & Review
Proudly sponsored by Gotham City Limit!
Support the show