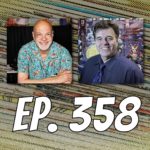 Cesar is back with us this week, so we've got a lot of catching up to do. We covered a handful of topics, and made sure to dedicate plenty of time to celebrate the careers of two comic legends who recently left us. Rest in Peace to George Pérez and Neal Adams, respectively

TIMESTAMPS: 
SUPPORT THE SHOW: 
Want to hear these episodes, and more, the second we post them? Subscribe to our Patreon! 
HELPFUL LINKS:
Proudly sponsored by Gotham City Limit!
Support the show