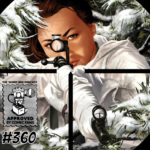 Selected by our Patrons, from our last episode poll, is Sara. A gripping war story inspired by true events, released by TKO Studios in 2018, from Garth Ennis (Preacher, Boys) and Steve Epting (Velvet, Captain America).  It's set in the cold winter of 1942, and follows a Soviet Sniper named Sara, and her comrades, as they beat back the Nazi invaders during a brutal winter campaign on the WWII Eastern Front.

TIMESTAMPS:
Sara review (00:06:20)
Dream casting for a live adaptation (00:34:54)
July comic picks to watch for (00:45:45)
Dark Crisis #1 exclusive variant giveaway (00:54:51)
General entertainment picks & recommendations (00:56:36)
SUPPORT THE SHOW: 
Want to pick the topic for the next episode, and access to bonus episodes? Subscribe to our Patreon! 
RELATED LINKS:
Proudly sponsored by Gotham City Limit!
Support the show