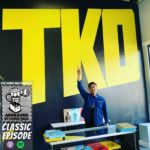 This episode was originally released in 2019 as Short Box #248

Tze Chun is the co-founder & publisher of the comic company, TKO Studios, as well as the writer and director for shows like Gotham & Little America. We're happy to have him on the show to talk about how TKO Studios is revolutionizing the comic industry, representation in comics, and Batman

SUPPORT THE SHOW: 
Want to pick the topic for the next episode, and access to bonus episodes? Subscribe to our Patreon! 
RELATED LINKS:
Proudly sponsored by Gotham City Limit!
Support the show