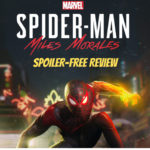 @MrEricAlmighty was recently presented a harsh reality - play the most anticipated game this year on the PS4.....or wait for the PS5 to fall from the sky to experience it in ALL of it's next-gen glory? Although a tough decision was made, we enlisted several other podcasters to help flesh out an overall spoiler-free review of Spider-Man: Miles Morales.

We have to give a HUGE shout-out to Hot Gamers Only, The Sunset Single Player Podcast, Hot Drops, and The Players Take: A Video Game Podcast, who each have their own full review of the game for you to listen to. Consider supporting these content creators by checking out what else they have to offer and a big thank you to everyone for sending in their thoughts!

🔻[*AFFILIATE LINK BELOW*] - Depending on your streaming app, links may be distorted in text. If so, you can find this episode on our main site at > waitforitpodcast.buzzsprout.com <🔺

🔻Want to skip the lines for your next grocery trip? Use our referral link for Instacart to get free delivery on your first order over $35 and to support our show: > https://instacart.oloiyb.net/emZ9O <🔺

🔻BACKGROUND MUSIC PROVIDED BY: Ocean by KV https://soundcloud.com/kvmusicprod  Free Download / Stream: http://bit.ly/2OCvpHU Music promoted by Audio Library https://youtu.be/a8ctDtA7OK8 — Creative Commons — Attribution 3.0 Unported  — CC BY 3.0 🔺 
Instacart - Groceries delivered in as little as 1 hour.
Free delivery on your first order over $35.
Disclaimer: This post contains affiliate links. If you make a purchase, I may receive a commission at no extra cost to you.