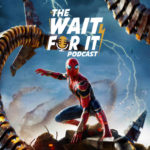 If you've listened to the podcast this year, you know that @PhilTheFilipino & @MrEricAlmighty couldn't POSSIBLY be more excited and nervous for Spider-Man: No Way Home to finally hit the big screen. The time has come. We saw it on opening night. Did our hopes and dreams of what this film could be turn out to be true? Or did our fears that Marvel would finally start to show signs of regression become a reality? We cover our thoughts in a spoiler free session to start the episode before deep diving into full spoilers of the movie!

Looking for more content to binge? Make sure to check out The Wait For It Podcast YouTube Page!

🔻[*AFFILIATE LINK BELOW*] - Depending on your streaming app, links may be distorted in text. If so, you can find this episode on our main site at > waitforitpodcast.buzzsprout.com <🔺

🔻Want to start podcasting? Use our referral link to Buzzsprout for a $20 Amazon Gift Card and to support our show: https://www.buzzsprout.com/?referrer_id=872095🔺

🔻BACKGROUND MUSIC PROVIDED BY:
Ocean by KV https://youtube.com/c/KVmusicprod​
Creative Commons — Attribution 3.0 Unported  — CC BY 3.0
Free Download / Stream: http://bit.ly/2OCvpHU​
Music promoted by Audio Library https://youtu.be/a8ctDtA7OK8
🔺
Buzzsprout - Let's get your podcast launched!
Start for FREE
Disclaimer: This post contains affiliate links. If you make a purchase, I may receive a commission at no extra cost to you.