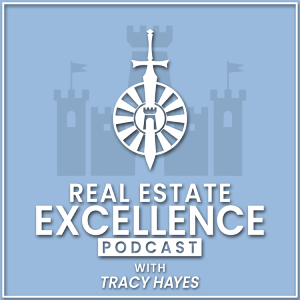 For many people, Real Estate can become the way to financial freedom after a tough, life-changing situation. That was the case for Stacy Darnell, who went off to become a highly successful realtor and team leader after a tough divorce, having been a stay-at-home mom for many years.
With just five years in the business, Stacy Darnell is already a top-performing agent at eXp Realty and has been awarded the Platinum Award for leadership by Keller Williams. As she says, brokerage isn't what makes you successful. It's your passion, mindset, and determination.
Join us today on Real Estate Excellence to listen to Stacy Darnell's journey to the top and learn how to use her insights to make it there yourself.
[0:00 - 04:40] Introducing Stacy Darnell, The Leader of eXp's JAX Team
Tracy Hayes introduces Stacy Darnell from the JAX team of eXp Realty 

Stacy was a stay-at-home mom who did a lot of community service, but her divorce led her to pursue a career in real estate.
[04:40 - 10:00] Insert Topic Here] From Stay-at-Home Mom to Top-Performing Agent
Going for not having done a formal job in the job market was very challenging.

Stacy did many things before arriving at real estate, including corporate jobs.

Stacy's experience helping people helped her develop a help-oriented mindset in real estate.

Stacy arrived at Keller Williams by interviewing brokerages.
[10:00 - 17:06 ] The Challenges of Starting a Real Estate Career From Scratch
Tracy and Stacy discuss the challenges of the early stages of a real estate career.

Keller Williams provided excellent education and formation for Stacy to begin her career.

Being around like-minded and successful people is very helpful in developing a proper mindset.

Being around people who know what they're doing in a team will help you grow and learn faster.

You need to learn to handle the technical side of transactions so that deals don't fall apart.
[17:06 - 26:15] Take Control and Be the Boss in Your Real Estate Transactions 
The importance of having the right information and asking important financial questions upfront.

Always take command and control over your transactions because that's why they're hiring you.

Tough conversations need to be had early on to prevent setbacks in transactions.

Bankruptcies.

How much money is available?

Prices.

Repairs.
[26:15 - 31:30] The First Things To Do as a Real Estate Professional
The first things Stacy did right away as she started working in the real estate business:

A list of contacts.

Calling acquaintances to let them know she is in the business. 

Getting around to know vendors and people you need to know in the business (inspectors, etc.)

Doing this was challenging for Stacy because she didn't want to come off as salesy, but she realized that she only wanted to help.

Learning scripts is important to have these conversations, but you can make them your own and make them sound natural.
[31:30 - 40:03] Mentorship, Team Building, and Finding Your Niche
The importance of finding a niche through trial and error.

Stacy found her niche through farming and door-knocking, which weren't her fortes but allowed her to meet people who led her to her niche and overcome her fears.

The best teams are "phone, phone, phone" because having many conversations builds your skills.

Stacy and Tracy discuss the importance of mentorship and mindset. 

 
[40:03 - 48:25] Getting Over Obstacles, Leading and Reaching Your Goals
Getting rid of the villains in one's life is a necessary step for growth.

3 things that make a successful broker or team lead:

A proper mindset.

Alignment with the goals and values of the team.

Tenacity to keep growing and moving forward.

Stacy discusses her and her team's goals for 2023:

Helping more people, more agents, and adding value.

Success comes while building genuine relationships.
 [48:25 - 01:01:35 ] Staying in Control During Your Transactions
The need to have lots of referrals for the different jobs that need to be done. 
Organic team recruitment and business growth.

Processes and systems as a pivotal part of real estate success. 

How and when to bring your first assistant as a realtor.

The stress of putting people on payroll and how to handle it.
[01:01:35 - 01:13:08] Leadership and the Value of Teamwork
Hiring new and young agents versus experienced professionals.

How to stay top of mind for potential clients and partners.

The value of working at eXp Realty for Stacy.

Culture.

Education.

Business.

How great leaders create other leaders.
[1:13:08 - 01:22:50] Setting Expectations Amidst Difficult Situations
Handling adverse market conditions by setting the right expectations for clients.

Home staging and creating the right conditions for a sale.

What to do when negotiating and setting expectations for buyers.

The importance of getting out and meeting other agents.
Quotes:
"The most important thing you can do is to find a person who can coach you and who you can ask the important questions about your profession."- Stacy Darnell
"The brokerage is not going to make you successful. You've gotta succeed wherever you are."- Stacy Darnell
"To me, the goal is not some big number of sales or profits. It's how many people I can help."- Stacy Darnell
"Make each morning purposeful, and you'll make your whole life and your business purposeful." - Stacy Darnell
To connect with Stacy Darnell, keep up with her new projects, and make her a part of your business network, make sure to follow her on social media and visit the JAX Team's business landing page:
The JAX Team's site: https://www.thejaxteam.com
Instagram: https://instagram.com/thejaxteam
Facebook: https://facebook.com/thejaxteam
If you want to build your business and become more discoverable online, Streamlined Media has you covered. Check out how they can help you build an evergreen revenue generator all 
powered by content creation!
SUBSCRIBE & LEAVE A 5-STAR REVIEW as we discuss real estate excellence with the best of the best.