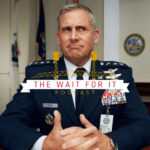 @MrEricAlmighty and @PhiltheFilipino are back with a very special Friday episode! Today, we will be discussing the highly anticipated Netflix series, Space Force! Just like with our film reviews, we'll discuss likes & dislikes regarding the show.

Space Force is a workplace comedy series that centers on a group of people tasked with establishing the sixth branch of the United States Armed Forces, the United States Space Force. Carell's character, Mark Naird, is the first general of the Space Force, and is in charge of the effort and the series follows his collaboration to get "boots on the moon" by 2024, per the orders of the President.

Is this series worth streaming, or skipping? We'll tell you everything you need to know!

🔻BACKGROUND MUSIC PROVIDED BY: HoobeZa
- Link - https://youtu.be/O6nMNPQ4Vf0 🔺 

🔻[*AFFILIATE INFO BELOW*] - pull up this episode on waitforitpodcast.buzzsprout.com if you are unable to click the link from the platform you are listening on. 🔺 


Buzzsprout - Let's get your podcast launched!
Start for FREE
Disclaimer: This post contains affiliate links. If you make a purchase, I may receive a commission at no extra cost to you.