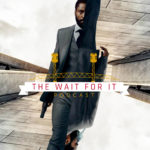 @MrEricAlmighty & @PhilTheFilipino finally got a chance to return to the movie theater to view Christopher Nolan's latest film, Tenet. The film has endured multiple delays due to the pandemic, but the time has finally come for it to release in theaters. Many of have you have wondered what exactly this film is about, & we do our best to deliver a spoiler-free discussion. So, was Tenet worth the wait? We'll let you know in this week's edition of"Wait For It Wednesday!"

🔻[*AFFILIATE LINKS BELOW*] - Depending on your streaming app, links may be distorted in text. If so, you can find this episode on our main site at > waitforitpodcast.buzzsprout.com <🔺

🔻Starting a podcast or need a place to record? Consider using our referral link for Squadcast: > https://squadcast.fm/?ref=waitforitpod <🔺

🔻Want to skip the lines for your next grocery trip? Use our referral link for Instacart to get free delivery on your first order over $35 and to support our show: > https://instacart.oloiyb.net/emZ9O <🔺

🔻BACKGROUND MUSIC PROVIDED BY: Ocean by KV https://soundcloud.com/kvmusicprod  Free Download / Stream: http://bit.ly/2OCvpHU Music promoted by Audio Library https://youtu.be/a8ctDtA7OK8 — Creative Commons — Attribution 3.0 Unported  — CC BY 3.0 🔺 
Instacart - Groceries delivered in as little as 1 hour.
Free delivery on your first order over $35.
Disclaimer: This post contains affiliate links. If you make a purchase, I may receive a commission at no extra cost to you.