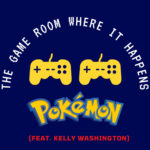 Welcome back to our monthly series, The Game Room Where It Happens! Since we've been gaming practically our entire lives, we discuss a different gaming franchise each month. This month, @MrEricAlmighty & @PhilTheFilipino talk about the long running, world wide phenomenon, Pokémon! & we have a very special & returning guest for this month's episode! Disney obsessed enthusiast & real life Tinkerbell, Kelly Washington from The Slice of Disney Podcast is back! Together they all discuss what got them into Pokémon, why they feel like it has had such longevity, & what they'd like to see next from the franchise!

The Slice of Disney Podcast: A show dedicated to all things Disney Theme Parks. From deep dives into attractions, to interviews with former cast members, to the fanatics guide to food - Kelly Washington takes you on an audio tour across the Disney globe.

Unchained Threads: Unchained Threads was created to spread awareness and keep the conversation going that human trafficking is happening everywhere; even in your own backyard...In order to make a tangible difference, 25% of the profits will go directly to an organization to help fight human trafficking.

🔻[*AFFILIATE LINK BELOW*] - Depending on your streaming app, links may be distorted in text. If so, you can find this episode on our main site at > waitforitpodcast.buzzsprout.com <🔺

🔻Want to start podcasting? Use our referral link to Buzzsprout for a $20 Amazon Gift Card and to support our show: https://www.buzzsprout.com/?referrer_id=872095🔺

🔻BACKGROUND MUSIC PROVIDED BY:
Prod. Riddiman: optimistic
🔺
Buzzsprout - Let's get your podcast launched!
Start for FREE
Disclaimer: This post contains affiliate links. If you make a purchase, I may receive a commission at no extra cost to you.