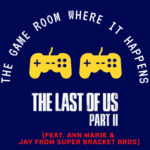 Welcome back to our monthly series, The Game Room Where It Happens! Since we've been gaming practically our entire lives, we discuss a different gaming franchise each month. This month, @PhilTheFilipino & @MrEricAlmighty are discussing The Last of Us Part II, roughly one year after its initial release. And since this game was so polarizing, we had to bring in two returning guests just to try and unpack why this game was so controversial. So we were happy to have Ann Marie (The Game Room Where It Happens - Uncharted Series) and Jay Davis (Intro To Anime II / The Game Room Where It Happens - End of an Era) from Super Bracket Bros back on the show! How do we feel about TLoU2 a year later and what do we think is in store for the future of this franchise? 

Ann Marie's Linktree: https://linktr.ee/msvalentine2552

Super Bracket Bros: 32 fighters enter from the universes of video games, anime, cartoons, TV, and movies.... with only one left standing at the end. They will serve as your personal "multiverse level" bracketologists, guiding you through every stomp, upset, and nail biting battle you can think of.

Ultimate Sports Mashup: Every other Monday, we pluck teams from across the sports history continuum and pit them against one another. Each week your hosts will break down what there is to love about two of the greatest teams in history and then match them up against one another. From the all-time greats, to the pros, and to the underclassmen, Ultimate Sports Mashup will bring you it all. Who do you think will be the Ultimate Champion?

🔻[*AFFILIATE LINK BELOW*] - Depending on your streaming app, links may be distorted in text. If so, you can find this episode on our main site at > waitforitpodcast.buzzsprout.com <🔺

🔻Want to start podcasting? Use our referral link to Buzzsprout for a $20 Amazon Gift Card and to support our show: https://www.buzzsprout.com/?referrer_id=872095🔺

🔻BACKGROUND MUSIC PROVIDED BY:
Prod. Riddiman: optimistic
🔺
Buzzsprout - Let's get your podcast launched!
Start for FREE
Disclaimer: This post contains affiliate links. If you make a purchase, I may receive a commission at no extra cost to you.