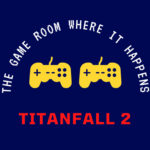 Welcome back to our monthly series, The Game Room Where It Happens! Since we've been gaming practically our entire lives, we tackle a new subject each month. This month, @MrEriAlmighty & @PhilTheFilipino discuss on of their all-time favorites, Titanfall 2. Titanfall 2 has somewhat of a tricky history. It's highly regarded as one of the best First-Person Shooters of the previous generation, yet frequently gets overlooked by many casual gamers. So this month, Eric & Phil take a look back at what made Titanfall 2 so special.

🔻[*AFFILIATE LINK BELOW*] - Depending on your streaming app, links may be distorted in text. If so, you can find this episode on our main site at > waitforitpodcast.buzzsprout.com <🔺

🔻Want to skip the lines for your next grocery trip? Use our referral link for Instacart to get free delivery on your first order over $35 and to support our show: > https://instacart.oloiyb.net/emZ9O <🔺

🔻BACKGROUND MUSIC PROVIDED BY:
Prod. Riddiman: optimistic
🔺
Instacart - Groceries delivered in as little as 1 hour.
Free delivery on your first order over $35.
Disclaimer: This post contains affiliate links. If you make a purchase, I may receive a commission at no extra cost to you.