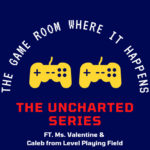 Welcome back to our monthly series, The Game Room Where It Happens. Since we've been gaming practically our entire lives, we tackle a new subject each month. & this month we get into the Playstation Exclusive Uncharted Series! & in order to do so, @PhilTheFilipino brought in TWO special guest. First, Twitch streamer & Cosplayer, Ms. Valentine also known as Ann Marie. Phil & Ann go way back & were ecstatic to reconnect & discuss this wonderful game series. & next, fellow podcaster from The Level Playing Field, Caleb Van Nice. Caleb & Phil met not too long ago when Phil had an opportunity to discuss another Playstation exclusive game on LPF (more on that soon)! Together, we discussed how Naughty Dog's quick witted scoundrel has impacted our lives & what we would like to see from the series going forward!

Ms. Valentine's Linktree: https://linktr.ee/msvalentine2552

Caleb's Links: Level Playing Field - "A group of good friends discuss the world of video games. Host Andrew Kimball and his Co-hosts Dylan Wren, Caleb Van Nice, Joseph Sommer and Aubrey Kimball sit down each week to talk about a new topic related to gaming. We talk about everything from spoiler-casts to what we've been playing, to more general topics on video games, if any of that interests you, than Level Playing Field is your home for fun and interesting video game conversations. Check us out and if you like what you hear, please tell a friend and share us on social media! And please subscribe and leave us a review!"



🔻[*AFFILIATE LINK BELOW*] - Depending on your streaming app, links may be distorted in text. If so, you can find this episode on our main site at > waitforitpodcast.buzzsprout.com <🔺

🔻Want to start podcasting? Use our referral link to Buzzsprout for a $20 Amazon Gift Card and to support our show: > https://www.buzzsprout.com/?referrer_id=872095 <🔺

🔻BACKGROUND MUSIC PROVIDED BY:
Prod. Riddiman: optimistic
🔺
Buzzsprout - Let's get your podcast launched!
Start for FREE
Disclaimer: This post contains affiliate links. If you make a purchase, I may receive a commission at no extra cost to you.