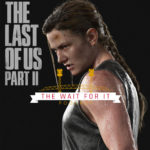 If you joined us on Wait For It Wednesday, you know that @MrEricAlmighty and @PhilTheFilipino have completed the controversial game known as The Last of Us Part 2. After giving our spoiler free review, we wanted to come back with a BONUS episode to dive into our full thoughts of the game. This will be a spoiler discussion, so if you have not beaten the game, you have been warned! And just like the last episode, we had the pleasure of having several different perspectives for this discussion, from some friends and also other podcasters!

Shout out to our friends Sierra - who you can find over at Crimsonash Cosplay & The Metropolis on Facebook - as well as Jordan over at Create And Curea, and Brittany - who provides vintage, nostalgia, and street wear products from Doughpass on Etsy. We also appreciate the Happy Tears Podcast, Nerds Doing Nerd Things!, SuperBracketBros, and The Player Base Gaming Podcast for participating. Consider supporting these content creators by checking out what they have to offer and a big thank you to everyone for sending in their thoughts.

🔻Check out the YouTube videos we referenced in this episode: > 10/10 Game Reviews: the truth by Alanah Pearce < & > Understanding The Last of Us Part II by Girlfriend Reviews <🔺

🔻[*AFFILIATE LINK BELOW*] - Depending on your streaming app, links may be distorted in text. If so, you can find this episode on our main site at > waitforitpodcast.buzzsprout.com <🔺

🔻This episode was recorded on SquadCast - if you need somewhere to record, consider using our referral link: > https://squadcast.fm/?ref=waitforitpod <🔺

🔻BACKGROUND MUSIC PROVIDED BY:
> Uniq: https://www.youtube.com/channel/UCV-OE1O2SpfSaneY5awNR0w >
"Art of Silence - by Uniq" is under a Creative Commons license (Creative Commons – International Recognition 4.0 – CC BY 4.0) > Soundcloud: https://soundcloud.com/uniqofficial > Instagram: https://www.instagram.com/uniq.produc... <🔺

Disclaimer: This post contains an affiliate link. If you make a purchase, I may receive a commission at no extra cost to you.