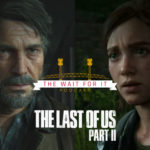 After weathering the storm of multiple delays and spoiler leaks, @MrEricAlmighty and @PhilTheFilipino have completed the controversial game known as The Last of Us Part 2. We bring you spoiler free thoughts of our expectations before pressing play, what we thought about the game, and give it an overall score. For this episode we had the pleasure to have several different perspectives, from friends and also other podcasters!

Shout out to Dan - who you can find more about on DanDanzy.com - and the hosts of The Fandom Effect, the Itty Bitty Podcast, and Yeah, About That! Consider supporting these content creators by checking out what they have to offer and a big thank you to everyone for sending in their thoughts. Make sure to come back this Friday for our full spoiler discussion episode for The Last of Us Part 2!

🔻[*AFFILIATE LINKS BELOW*] - Depending on your streaming app, links may be distorted in text. If so, you can find this episode on our main site at > waitforitpodcast.buzzsprout.com <🔺

🔻This episode was recorded on SquadCast - if you need somewhere to record, consider using our referral link: > https://squadcast.fm/?ref=waitforitpod <🔺

🔻Want to start podcasting? Use our referral link to Buzzsprout for a $20 Amazon Gift Card and to support our show: > https://www.buzzsprout.com/?referrer_id=872095 <🔺

🔻BACKGROUND MUSIC PROVIDED BY:
> Uniq: https://www.youtube.com/channel/UCV-OE1O2SpfSaneY5awNR0w >
"Art of Silence - by Uniq" is under a Creative Commons license (Creative Commons – International Recognition 4.0 – CC BY 4.0) > Soundcloud: https://soundcloud.com/uniqofficial > Instagram: https://www.instagram.com/uniq.produc... <🔺
Buzzsprout - Let's get your podcast launched!
Start for FREE
Disclaimer: This post contains affiliate links. If you make a purchase, I may receive a commission at no extra cost to you.