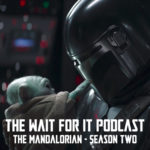 Season Two of The Mandalorian has finally come to a close, so of course @MrEricAlmighty & @PhilTheFilipino had to do a complete Spoiler Free & Spoiler Discussion! For this special episode, we enlisted the help of fellow Jacksonville Podcaster, Badr Milligan from The Short Box Podcast. He was kind of enough to provide some thoughts on Season Two, which will be sprinkled in throughout the entire episode. Have you finished Season Two? Let us know what you thought on all of our social media platforms!

The Short Box Podcast: The Short Box is an award-winning comic-book and pop-culture podcast based in Jacksonville, FL, created in 2012 and hosted by Badr, Cesar, Ed, Ashley, and Drew. The show is on its sixth season of releasing weekly opinionated discussions centered around comic & pop-culture topics. Industry professionals, actors, musicians, and content creators regularly join the show to chat about projects and the latest fandom news.

🔻[*AFFILIATE LINK BELOW*] - Depending on your streaming app, links may be distorted in text. If so, you can find this episode on our main site at > waitforitpodcast.buzzsprout.com <🔺

🔻Want to skip the lines for your next grocery trip? Use our referral link for Instacart to get free delivery on your first order over $35 and to support our show: > https://instacart.oloiyb.net/emZ9O <🔺

🔻BACKGROUND MUSIC PROVIDED BY: Beautiful Day by Free Vibes: https://goo.gl/NkGhTg🔺 
Instacart - Groceries delivered in as little as 1 hour.
Free delivery on your first order over $35.
Disclaimer: This post contains affiliate links. If you make a purchase, I may receive a commission at no extra cost to you.