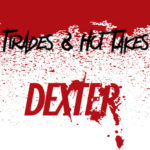 @PhilTheFilipino & @MrEricAlmighty are back with our most casual episode on the podcast called Tirades and Hot Takes, where each month, we rant on different topics and unpopular opinions that we get from the internet, friends, and/or our listeners, with no limits on where we can go next. In anticipation for the upcoming revival miniseries on Showtime, we decided to take a stab at Dexter, and it did not disappoint!

Looking for more Dexter content to binge?  Go listen to this month's episode of Netflix & PHIL - Dexter. You can also see the Dexter: Full Series RECAP that Eric recommended over at Man Of Recaps.

Check out the Wait For It Podcast YouTube Page: The Wait For It Podcast

🔻Depending on your streaming app, links may be distorted in text. If so, you can find this episode on our main site at > waitforitpodcast.buzzsprout.com <🔺

🔻BACKGROUND MUSIC PROVIDED BY:
Free Vibes: https://goo.gl/NkGhTg​
Warm Nights by Lakey Inspired: https://soundcloud.com/lakeyinspired/...​
Creative Commons — Attribution 3.0 Unported— CC BY 3.0
https://creativecommons.org/licenses/...🔺
Buzzsprout - Let's get your podcast launched!
Start for FREE
Disclaimer: This post contains affiliate links. If you make a purchase, I may receive a commission at no extra cost to you.