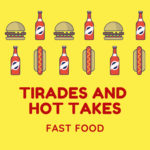 @PhilTheFilipino & @MrEricAlmighty recently introduced this brand new series called Tirades and Hot Takes, where we will rant on different topics and unpopular opinions that we get from our friends or listeners, with no limits on where we can go next. For the second episode of this series, we decided to take a bite out of the most sensitive topic in all of mankind....FAST FOOD!

Want to be featured in a next month's episode about Disney animated movies? Send us a message through SpeakPipe! Looking for extra content to binge after this? Check out Phil's guest spot over at Level Playing Field Gaming or go watch our Justice League review on our YouTube page.

🔻[*AFFILIATE LINK BELOW*] - Depending on your streaming app, links may be distorted in text. If so, you can find this episode on our main site at > waitforitpodcast.buzzsprout.com <🔺

🔻Want to skip the lines for your next grocery trip? Use our referral link for Instacart to get free delivery on your first order over $35 and to support our show: > https://instacart.oloiyb.net/emZ9O <🔺

🔻BACKGROUND MUSIC PROVIDED BY:
Free Vibes: https://goo.gl/NkGhTg​
Warm Nights by Lakey Inspired: https://soundcloud.com/lakeyinspired/...​
Creative Commons — Attribution 3.0 Unported— CC BY 3.0
https://creativecommons.org/licenses/...🔺
Instacart - Groceries delivered in as little as 1 hour.
Free delivery on your first order over $35.
Disclaimer: This post contains affiliate links. If you make a purchase, I may receive a commission at no extra cost to you.