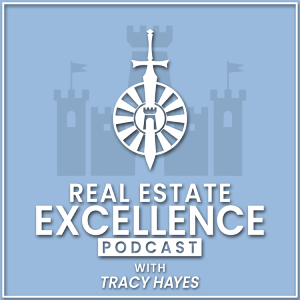 Learning the ropes of real estate from the ground up can be tough, but this brother and sister have created a brokerage that focuses on teaching new agents to get them to live up to their full potential. Meet Tom and Katie Jervis, the founders of KST Group.
Tom and Katie Jervis were born in the UK, but they moved to the US at an early age. Although they both got different degrees and worked in different fields early in their professional careers, they decided to follow in their father's footsteps and jump into the real estate industry. Tom got in first with a vision of creating a brokerage that focuses on truly helping new agents learn the business, and today, that dream has been realized in KST Group.
Join us in this incredible episode of Real Estate Agent to hear the journey of these two siblings into real estate success!
[00:00 - 06:45] Brother and Sister Team Up to Create a Successful Brokerage Team
• Tom and Katie Jervis are a brother and a sister who have created a successful real estate brokerage in Northeast Florida.
• Both were born in England and moved to The Bahamas when they were younger, then to South Florida for schooling.
• Tom has a Bachelor's degree, while Katie has a Doctorate of Law (JD).
• Katie initially wanted to pursue nonprofit work but ended up joining Tom in the real estate space.
[06:45 - 12:34] Tom's Journey to Real Estate: From Jacksonville University to Kst Group
• Tom graduated from Jacksonville University.
• He did an internship and worked as a financial advisor, but he didn't truly enjoy that job.
• Tom and Katie's dad worked in the real estate business, and he suggested they look into real estate for work opportunities. 
• At first, they experienced a lack of camaraderie and support in the industry for younger agents, which inspired Tom to create his business.
• Real estate is an attractive industry for youth due to work-from-home opportunities.
[12:34 - 19:16] Leveraging the Real Estate Boom in Jacksonville to Build a Successful Brokerage
• Tom had the vision to build a brokerage that would help agents get started in their careers, even without prior real estate experience. That brokerage went on to become KST.
• Katie joined Tom and became the Guinea pig for how his idea would work for other new agents.
• The first 12 months with KST were spent testing lead generation, marketing, and building the brokerage, but she did really well, closing 7 million dollars in her first 6 months.
• COVID made it easier for listing agents but more challenging for buyers agents due to the pressure and quick decisions needed.
[19:16 - 25:37] The Importance of Processes and Systems for Real Estate Agents
• Negotiation and strategy were key components of the law experience that was used in the process.
• The first 12 months at Kst were focused on generating business and understanding the real estate industry.
• The first brokerage had some initial training, but it was mostly sink or swim.
• Finding the right brokerage is important to provide structure and support to new agents.
• Processes and systems need to be put in place to help agents succeed.
[25:37 - 31:28] Achieving Success: The Benefits of Consistent Work and Productivity
• Consistent work over a long period of time is necessary to see results in the real estate industry.
• Technology is important to have in place for agents to be successful.
• It needs to be user-friendly and provide results.
• Agents need to spend time out in public, not in the back office.
• Efficiency and productivity are key components for success.
• Prospecting and entertaining clients are necessary for success.
[31:28 - 37:55] Building Genuine Relationships: Consistent Follow-Up and Business Growth
• Relationship building is key to success in real estate.
• Building relationships involves taking clients out to lunch, having standing reservations at restaurants, and attending events.
• Prospecting includes lead generation, referrals, past clients, staying top of mind, and building genuine relationships.
• Katie has shifted her business focus from buying leads to contacting past clients, word of mouth, and sphere.
• She nurtures relationships by getting to know people on the phone, taking them to showings, inviting them to events, and being consistent with follow-up.
• Her level of discipline has helped her succeed in the business.
[37:56 - 43:48] Learning From Mistakes to Achieve Success in Real Estate
• Every person and transaction is different in the real estate business.
• Business principles are similar across all industries, particularly in sales.
• Visionary leadership and long-term planning are key to success.
• Mistakes need to be seen as opportunities to learn and grow.
[43:48 - 50:43] Resilience and Commitment as The Bases of a Succesful Career
• Good on-paper plans don't always translate into practice
• Tom reflects on his experience as a leader and how his commitment led him to improve his leadership. 
• Katie talks about how she learned to be resilient in her twenties by moving around for work opportunities.
• Real estate offers endless opportunities for people who are willing to work hard to take them.
[50:43 - 57:01] The Benefits of Having a Supportive Broker
• Real estate is a family business, so there's an element of 'we cannot fail.'
• A good leader focuses on taking the pressure off by being available and approachable.
• There needs to be confidence in the sales manager to step in with no emotions attached.
• Asking questions to empower agents to learn and not have to call every week.
• Real estate agents should never miss a phone call. 
[57:01 - 01:02:43] Leveraging Technology and Automation to Reach Your Goals
• KST operates similarly to a team, but everyone is a single agent
• The brokerage provides everything that a team would provide in terms of technology, support, transaction coordination, and marketing assistance.
• CRM is fundamental for consistent deals and longevity in the pipeline.
• Smart lists run automatically to pull out people that need to be contacted on a daily basis.
[01:02:43 - 01:08:32] Recruiting Dynamic Agents to Join KSD
• A brokerage needs to automate as much as possible while still creating a human touch.
• Agents should have a minimum of $5 million in production per year.
• Creating a culture that is enjoyable and different from other brokerages
• KST has a high retention rate, and people only leave it when they're leaving the industry altogether.
• KST looks for agents who are dynamic, fun, ambitious, and excited about the industry, with a full–time commitment.
[01:08:32 - 01:14:14] Aligning Expectations and Building a Routine
• The best way to train and retain agents is to understand them and to create proper expectations.
• Agents in KST are expected to do 40-50 deals per year for their business to truly work.
• Split day between prospecting and doing what you love.
• Agents should be encouraged to find balance in their day-to-day routine.
[01:14:14 - 01:20:19] "Be Prepared to Work: Advice for Aspiring Real Estate Agents from Katie"
• Availability is a key challenge for brokers in the industry
• Agents need support, help, and guidance from their broker.
• Brokers should have a reasonable amount of agents working with them, depending on their capacity.
• Agents should be available 24/7 and answer questions quickly.
• Agents should be prepared to work hard and have good relationships with their clients.
[01:20:19 - 01:26:20] Building a Quality Brand: Leveraging Relationships and Asking Questions
• Consistency and routine are key to success in real estate.
• Personability is important for being able to have a good conversation with clients.
• Willingness to learn and ask questions is essential
• Continually fill your mind with positive books and podcasts to build confidence.
• Work for a company where you genuinely want to be with your coworkers.
• Clients are buying because of the person they're working with, not the brokerage.
Quotes:
"It's about consistent work over a long period of time, and there are just no shortcuts." - Katie Jervis
"It's just the products that change, but the core functions of the job remain for any business: being a good person, building relationships, and giving value to your clients regardless of whether you're selling shoes or houses." - Tom Jervis
"The real estate industry offers limitless opportunities, but only for those who commit to their job and put in the work to become really good at it." - Katie Jervis
"If you can manage it from your phone, your pipeline's probably not big enough, so you need some infrastructure." - Tom Jervis
Be sure to visit KST's site and Katie's Facebook page to stay in touch with Tom and Katie, keep up with all of their projects, and make them a part of your network. KST Group's business site: https://www.kstrealestate.com/
Katie Jervis's Facebook:  https://www.facebook.com/kljervis
If you want to build your business and become more discoverable online, Streamlined Media has you covered. Check out how they can help you build an evergreen revenue generator all 
powered by content creation!
SUBSCRIBE & LEAVE A 5-STAR REVIEW as we discuss real estate excellence with the best of the best.