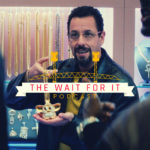 @MrEricAlmighty and @PhiltheFilipino come together this Wait For It Wednesday to discuss the critically acclaimed film, Uncut Gems, which was recently added to Netflix. There was a lot of talk surrounding this film around Oscar season, & some people even believe Adam Sandler was robbed of a Best Actor nomination. For that reason, we felt it necessary to provide our thoughts on the film. This review is spoiler free up until the (14:56) mark. After that, we discussed the finale of the film. So check out what we had to say about Uncut Gems!

🔻BACKGROUND MUSIC PROVIDED BY: Ocean by KV https://soundcloud.com/kvmusicprod  Free Download / Stream: http://bit.ly/2OCvpHU Music promoted by Audio Library https://youtu.be/a8ctDtA7OK8 — Creative Commons — Attribution 3.0 Unported  — CC BY 3.0 🔺 

🔻[*AFFILIATE INFO BELOW*] - pull up this episode on waitforitpodcast.buzzsprout.com if you are unable to click the link from the platform you are listening on. 🔺 
Buzzsprout - Let's get your podcast launched!
Start for FREE
Disclaimer: This post contains affiliate links. If you make a purchase, I may receive a commission at no extra cost to you.