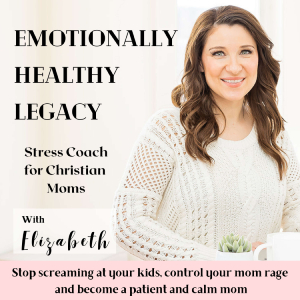 Welcome to Emotionally Healthy Legacy.  A podcast for Christian moms who want to control their mom rage and respond with patience and calm.
I am so excited that you are here
Do you want to enjoy being a mom?
Are you sick of constantly screaming at your kids or experiencing explosive anger?
Do you wish you could be a calm and patient mom?
Do you ever tell yourself I never had anger issues until I had kids?
Good news, You are in the right place. There is a way to overcome destructive anger so you can build a closer relationship with your kids that will feel safe and loving.
Hey, I'm Elizabeth, I'm a Stress coach for Christian moms and podcast host. I'm a wife and a mom of 4.
For the first 8 years of motherhood I struggled with burnout and constant over-reacting.
I wanted to be calm and patient but I often felt frustrated on the inside and even explode in anger. (yes, scary and ugly anger)
I felt so much shame and guilt and hoped no one would ever know about this.
I wanted to model to my kids how to control my big emotions but I didn't know how to actually do it.
I was striving to be a good mom but struggling with constant overwhelm and stress that led me to snap and over-react with my family.
I finally went to counseling and bought courses on mindset. By doing the inner work and partnering with God, I actually grew into the mom I wanted my kids to remember.
The mom I have become now allows me to have daily alone time to feel restored and stay calm even when my kids are not.
I became a Stress coach for Christian moms, helping them breaking destructive emotional patterns and creating peace in their home.
You too can become a mom who is in control of her emotions and models emotional stability to her kids.
In this podcast you will learn:
-How to partner with God in motherhood
-Spiritual encouragement
-Mindset shifts
-Prioritizing your needs guilt free
-Setting healthy boundaries with yourself and others
-Healthy processing of challenging emotions (controlling your mom rage)
-Healthy habits for spiritual, mental, emotional, and physical wellbeing
-How to grow a closer relationship with your spouse and children
-Overcome negative self talk, guilt, shame and lies from the devil
If that sounds like something you need, welcome my friend.
I can't wait to help you overcome destructive emotional patterns so you can partner with God and leave an emotionally healthy legacy for your kids.
I'm about to teach you how to become the mom you want your kids to remember.
Subscribe to this podcast and see all the new episodes uploaded weekly.
I pray this podca
~~~~~~~~~~~~~~~~~~~~~~~~~~~~~~~~~
Next Steps:
Download Free Guide:
5 Powerful and effective ways to calm down when feeling triggered
Get support:
~~~~~~~~~~~~~~~~~~~~~~~~~~~~~~~~~
Website: emotionallyhealthylegacy.com
Contact: [email protected]
Submit a Question to be answered on the show
Leave me a voice memo with a question/comment
Support this podcast for a small monthly donation