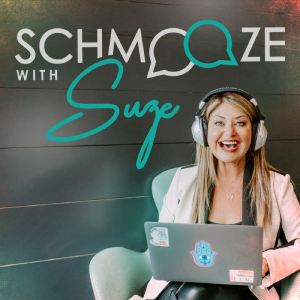 When I found out that I was going to "produce forth an heir," I very quickly realized that while all I legally needed to exit the hospital with my tiny human was a car seat, I was now in command of all  of the rules, responsibilities, schedules and appointments for said tiny human- and now his sister also- until they are teenagers. 
By contrast, my guest today, United States Navy Commander Alexa Jenkins, selected a path that STARTED as a teenager- which was heavily focused on rules, responsibility, schedules and appointments. 
How does someone become a professional rule follower? And does attitude matter when giving and following rules? Can those rules be used to inspire others and make a better community for us all? And that is what we are going to tackle today...
Do you have some feedback, thoughts or questions?
Connect on Instagram @Schmoozewithsuze
Want to be a guest on my show or have an Honorable Mench to nominate? Send us an email and subscribe on www.SchmoozewithSuze.org for your dose of culture, values and identity... with a side of chutzpah!
Don't forget to leave a review if you enjoyed this episode.
Thank you for helping us grow!