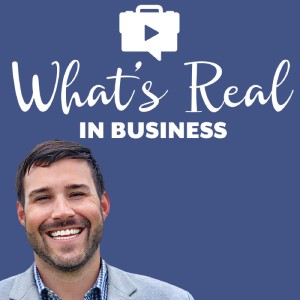 Please share, rate, review, and subscribe to our channel!
Welcome to The What's Real In Business Podcast with host Justin Bullock!


Are you an aspiring entrepreneur or business operator seeking educational, motivational, and entertaining information about how to most effectively grow both personally and professionally?


Join real estate entrepreneur, author, and business coach Justin Bullock as he interviews other business professionals in a variety of industries in order to highlight their journeys, mindsets, challenges, successes, routines, and their provided services.


If you want to understand the most fundamental principles for your developmental success, What's Real In Business is the channel for you.


Gonzalo Corzo comes from a family of entrepreneurs. In 2017, Gonzalo, along with his partner Dominick Felix, founded Cash Geeks Home Buyers in Jacksonville, Florida. 

Today, their company transacts wholesale real estate business all throughout Florida and operates in multiple markets in numerous states. 

As a result of their  strategic efforts and exponential growth, Cash Geeks was awarded 2022's "12th Fastest Growing Company" in Jacksonville, Florida, and was voted one of the "Best Places to Work" by the Jacksonville Business Journal. 

At a prime age of 26, Gonzalo has been involved in over 1,000 real estate transactions, and is now beginning to flip properties in addition to wholesaling them. 

His goal is to keep growing Cash Geeks, his team, his podcast "Cash Geeks Network", and his legacy.

Outside of business, Gonzalo enjoys spending time with his wife, his family, and friends. He also enjoys connecting with new like-minded individuals,  expanding upon his personal development, and playing musical instruments such as the guitar, the drums, and piano. 


To connect directly with host Justin Bullock:


For business coaching services and to pre-order a copy of his new book, Tilting The Balance, visit TiltingTheBalance.com


To learn more about investing in real estate directly with Justin, visit CommunityConstructionServices.com


Interested in learning how to play the guitar? Enroll is Justin's online course at MemorizeTheGuitar.com