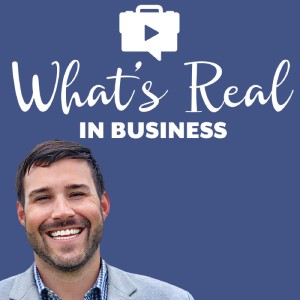 Please share, rate, review, and subscribe to our channel!
Welcome to The What's Real In Business Podcast with host Justin Bullock!


Are you an aspiring entrepreneur or business operator seeking educational, motivational, and entertaining information about how to most effectively grow both personally and professionally?


Join real estate entrepreneur, author, and business coach Justin Bullock as he interviews other business professionals in a variety of industries in order to highlight their journeys, mindsets, challenges, successes, routines, and their provided services.


If you want to understand the most fundamental principles for your developmental success, What's Real In Business is the channel for you.


Jason Shirley is a precious metals expert and multifamily real estate investor. His father introduced him to the concept of building wealth with Gold and Silver when he was a young child and Jason has been involved with precious metals ever since.


Although his father was a blue-collar worker, he taught Jason the importance of having discipline to save and invest for wealth creation. These early lessons helped him create a wealth portfolio of metals and he developed an excitement for investing in other real assets including real estate, stocks, and cryptocurrency. Jason has also become an expert in using a variety of advanced financial strategies geared towards wealth creation and taxation minimization.


Today, his passion is helping others succeed in using precious metals to build wealth and to create cash flows that become family legacies for future generations.


Jason is active in his church and looks forward to future mission work to support aspiring entrepreneurs in third world countries.


To connect directly with host Justin Bullock:


For business coaching services and to pre-order a copy of his new book, Tilting The Balance, visit TiltingTheBalance.com


To learn more about investing in real estate directly with Justin, visit CommunityConstructionServices.com


Interested in learning how to play the guitar? Enroll is Justin's online course at MemorizeTheGuitar.com