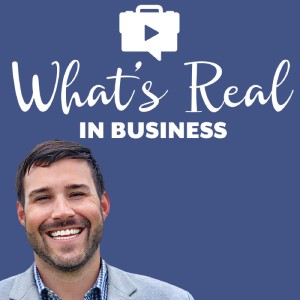 Please share, rate, review, and subscribe to our channel!
Welcome to The What's Real In Business Podcast with host Justin Bullock!


Are you an aspiring entrepreneur or business operator seeking educational, motivational, and entertaining information about how to most effectively grow both personally and professionally?


Join real estate entrepreneur, author, and business coach Justin Bullock as he interviews other business professionals in a variety of industries in order to highlight their journeys, mindsets, challenges, successes, routines, and their provided services.


If you want to understand the most fundamental principles for your developmental success, What's Real In Business is the channel for you.


Michael "Mike" Goldstein has become an icon and local staple of the Tallahassee community through his business Capital City Pedicabs. He took it over from his father Ron Goldstein in 2018 and they celebrated their 10th year in business in 2022.

Capital City Pedicabs specializes in transportation and forming meaningful connections by providing a unique tourism option with a fun conversational component.

They help prevent students from drinking and driving, from being late to class, and help people get to where they need to go in the Florida State University and Downtown areas of Tallahassee.

Mike enjoys networking events and is involved with the Tallahassee Chamber of Commerce, Tallahassee Network of Young Professionals, Working Class Wednesday, Domi Station, and with the Jim Moran Institute.

When he is not working, he likes to sing karaoke, watch movies, watch and perform stand up comedy, hang out with family and friends, watch baseball, and support Florida State University athletics.


To connect directly with host Justin Bullock:


For business coaching services and to pre-order a copy of his new book, Tilting The Balance, visit TiltingTheBalance.com


To learn more about investing in real estate directly with Justin, visit CommunityConstructionServices.com


Interested in learning how to play the guitar? Enroll is Justin's online course at MemorizeTheGuitar.com