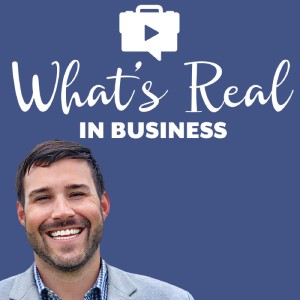 Please share, rate, review, and subscribe to our channel!
Welcome to The What's Real In Business Podcast with host Justin Bullock!


Are you an aspiring entrepreneur or business operator seeking educational, motivational, and entertaining information about how to most effectively grow both personally and professionally?


Join real estate entrepreneur, author, and business coach Justin Bullock as he interviews other business professionals in a variety of industries in order to highlight their journeys, mindsets, challenges, successes, routines, and their provided services.


If you want to understand the most fundamental principles for your developmental success, What's Real In Business is the channel for you.


Tiea Vincent is the broker and owner of NXT Level Real Estate and the owner of NXT Level School of Real Estate which she founded in 2022. She has specialized in property management for over 19 years and is currently a Florida Realtors and Florida Real Estate Commission Instructor.


She is also an active director member for the National Association of Realtors, for Florida Realtors, and is the Secretary for the Northeast Florida Association of Realtors. She is the past Florida State President for the National Association of Residential Property Managers and is the past Division Vice President for the Florida Women's Council of Realtors.


Tiea was the 2022 Champion for Best Buddies of Jacksonville where she raised over $84,000.00 for their organization. 


She holds numerous professional designations, including one as a Master Property Manager through the National Association of Residential Property Managers.


Outside of business, Tiea is a mother and a military wife. She has two awesome pups, enjoys boating with the family, and on occasion can be found playing poker and enjoying a nice glass of bourbon with friends.


To connect directly with host Justin Bullock:


For business coaching services and to pre-order a copy of his new book, Tilting The Balance, visit TiltingTheBalance.com


To learn more about investing in real estate directly with Justin, visit CommunityConstructionServices.com

Interested in learning how to play the guitar? Enroll is Justin's online course at MemorizeTheGuitar.com