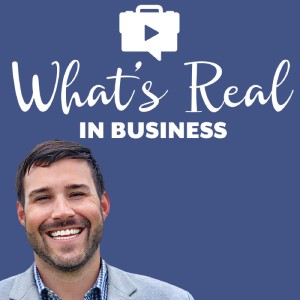 Please share, rate, review, and subscribe to our channel!

Welcome to The What's Real In Business Podcast with host Justin Bullock!
Are you an aspiring entrepreneur or business operator seeking educational, motivational, and entertaining information about how to most effectively grow both personally and professionally? 
Join real estate entrepreneur, author, and business coach Justin Bullock as he interviews other business professionals in a variety of industries in order to highlight their journeys, mindsets, challenges, successes, routines, and their provided services.

If you want to understand the most fundamental principles for your developmental success, What's Real In Business is the channel for you.
In today's Episode #4, Justin interviews entrepreneur, commercial real estate agent, speaker, coach, and real estate investment advisor Frank Spaulding.
Frank originally comes from a background in the IT community. 

He built several managed website hosting companies, Internet service providers, and a systems administration firm focused on Linux servers and co-created industry leading trade shows for the IT industry before moving into his real estate career. 
Frank is now a commercial real estate agent with One Realty Corp. and currently invests in land and self-storage facilities. He is always open to joint venture opportunities on projects and can provide creative solutions.

He is also a co-host with the Hive With Us Podcast.
To contact Frank directly, you can email him at [email protected]
To connect directly with host Justin Bullock:
For business coaching services and to pre-order a copy of his new book, Tilting The Balance, visit TiltingTheBalance.com
To learn more about investing in real estate directly with Justin, visit RiverCityFund.com
Interested in learning how to play the guitar? Enroll is Justin's online course at MemorizeTheGuitar.com