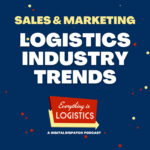 There's a lot of doubt running rampant in the markets but as logistics professionals--staying on top of those moments that can shift consumer behavior can mean the survival of your company. And what better way to stay on top of those shifts than to hear insight from some of the top companies like Loadsmart, Drive My Way, Transfix, and Knichel Logistics. 
The executives in this episode include: 
This conversation was recorded live at the Transportation Marketing and Sales Association in Orlando, Florida in June of 2022 with insights around: 
How each company is approaching recruiting and retaining top talent within the company
How to maintain processes and vision when everyone is shifting how and where they work
Getting more budget and resources by building a business case for the CEO to invest
How sales and marketing roles within each company are evolving and becoming more strategic
It's a great panel so S/O to the TMSA for letting me moderate and allowing me to share that insight with you today. You can learn more about the TMSA by visiting: https://www.tmsatoday.org/


Everything is Logistics is hosted by Blythe Brumleve, founder of Digital Dispatch where we help freight companies get online and grow. Check out our top shows to fix your website and fix your marketing. Alternatively, you can search by topic and check out all our past episodes of the podcast—right on our website.
-----------------------------------------------

THANK YOU TO OUR SPONSORS!

At SPI Logistics they have industry-leading technology, systems, and back-office support to help you succeed. Learn more about SPI's freight agent program here. Make sure to let them know we sent you!
-----------------------------------------------

ABOUT THE PODCAST:

Everything is Logistics is a podcast for the thinkers in freight. Subscribe to our newsletter to never miss an episode.

Follow EIL host Blythe Brumleve on social: Twitter | LinkedIn| Instagram| TikTok| YouTube