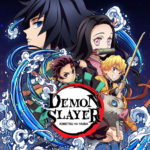 @MrEricAlmighty is back with a remastered episode from his recurring series "Why you should watch ______ in less than 10 minutes!" and this week, we talk about Demon Slayer. Find out what the show's strengths are, what it's all about, and why you should find the time to watch this anime!

Want some more content to binge? Check out our spoiler review of Demon Slayer The Movie: Mugen Train. Also make sure to follow The Wait For It Podcast on our YouTube page for some more bonus content throughout the year.

🔻[*AFFILIATE LINK BELOW*] - Depending on your streaming app, links may be distorted in text. If so, you can find this episode on our main site at > waitforitpodcast.buzzsprout.com <🔺

🔻Want to skip the lines for your next grocery trip? Use our referral link for Instacart to get free delivery on your first order over $35 and to support our show: > https://instacart.oloiyb.net/emZ9O <🔺

🔻BACKGROUND MUSIC PROVIDED BY: Artist - PeriTune / Song - Hanagoyomi Social links: peritune.com https://soundcloud.com/sei_peridot Mp3 Download: peritune.com/hanagoyomi/ 🔺 
Instacart - Groceries delivered in as little as 1 hour.
Free delivery on your first order over $35.
Disclaimer: This post contains affiliate links. If you make a purchase, I may receive a commission at no extra cost to you.