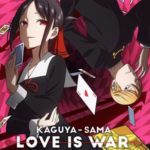 @MrEricAlmighty is back with an all new episode on his recurring series "Why you should watch ______ in 10 minutes!", and this week, we talk about Kaguya-sama: Love Is War. Find out what the show's strengths are, what it's all about, and why you should find the time to watch it! 

🔻BACKGROUND MUSIC PROVIDED BY: Artist - PeriTune / Song - Hanagoyomi Social links: peritune.com https://soundcloud.com/sei_peridot Mp3 Download: peritune.com/hanagoyomi/🔺

[*AFFILIATE INFO BELOW*] - pull up this episode on waitforitpodcast.buzzsprout.com if you are unable to click the link from the platform you are listening on. 


Buzzsprout - Let's get your podcast launched!
Start for FREE
Disclaimer: This post contains affiliate links. If you make a purchase, I may receive a commission at no extra cost to you.