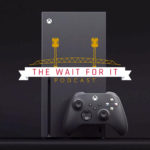 Thanks for joining us on The Wait For It Podcast! It's Wait For It Wednesday, & @PhilTheFilipino is here with some fresh new content for you all.
This week he will discuss what he hopes the Xbox Series X will bring to the table & what it will take to convince him to purchase one. This of course is completely opinion based, so please let us know what you would like to see from the Xbox Series X or the PlayStation 5!
🔻
Music Credit: Chris Morrow 4 Track Name: "Hip Hop Rap Instrumental - Crying Over You"
Music By: Chris Morrow 4 @ https://soundcloud.com/chris-morrow-3
Include a link to the artists original content, HERE - https://soundcloud.com/chris-morrow-3...
License for commercial use: Creative Commons Attribution 3.0 Unported (CC BY 3.0) https://creativecommons.org/licenses/...
Music promoted by NCM https://goo.gl/fh3rEJ
🔺
--- Send in a voice message: https://anchor.fm/waitforitpodcast/message