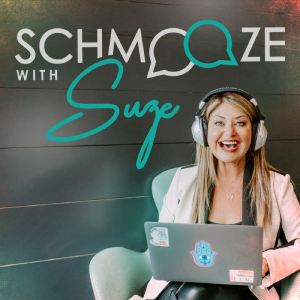 I always have a valid passport, cash on hand, and a heightened fight or flight instinct braided like challah into my D-N-A. Why? Because my parents' parents were hunted for extinction during the Holocaust. Generational trauma is something that millions of people deal with every day. So what is it? What does it mean to the people experiencing it? Why should we even address it… and that is what we are going to tackle today…

Attitude of Gratitude is easy to say, but what if the thing you are MOST grateful for- BEING ALIVE- is just a daily reminder that you lost everyone and everything, the trauma of the atrocities is fresh in your mind, and you are tasked with moving on.  My guest, journalist and documentarian Stacey Goldring discusses Traces: Voices of the Second Generation, the story of 19 Second Generation Holocaust Survivors and their stories.
Find out more at www.TracesFilm.com


Do you have some feedback, thoughts or questions?
Connect on Instagram @Schmoozewithsuze
Want to be a guest on my show or have an Honorable Mench to nominate? Send us an email and subscribe on www.SchmoozewithSuze.org for your dose of culture, values and identity... with a side of chutzpah!
Don't forget to leave a review if you enjoyed this episode.
Thank you for helping us grow!