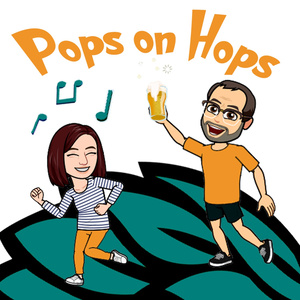 Barry and Abigail discuss A Fab Four Christmas, Volume. 1 by The Fab Four and sample P. Swayze IPA, Chet Belgian Tripel, Schweinator, and Voidgazer from Lincoln's Beard Brewing Co. in Miami, Florida.
Read the story of Grace Beddell and her impact on Lincoln's beard.
John Falco, co-owner of Lincoln's Beard, is a big fan of Patrick Swayze, and many of the brewery's beer names are references to his filmography!
Oh, no! Fry's Electronics recently closed after 36 years! Another source for Barry's impulse CD purchases has bitten the dust.
You can listen to all of The Fab Four's Beatles-style Christmas Songs on the collection Hark!
Check out the Beatles' Red and Blue compilation albums from 1973.
Better still, you can listen to this Santa's Beard playlist that includes the Beatles' tracks that inspired each Christmas song!
Our first entry from The Virtual Jukebox was randomly selected during this episode, and it is Pretenders by The Pretenders, submitted by Abigail's uncle Todd Sider. Our hope is to drop this on March 4, 2022!
Up next… Eye to the Telescope by KT Tunstall
Follow Barry or Abigail on Untappd to see what we're drinking when we're not on mic!
Facebook | Instagram | Twitter | YouTube | Website | Email us | Virtual Jukebox
--- Send in a voice message: https://podcasters.spotify.com/pod/show/pops-on-hops-podcast/message