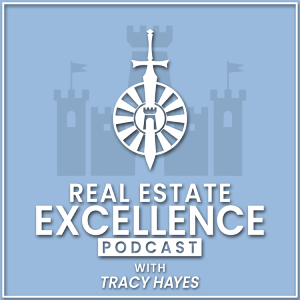 For many people, their house is the biggest investment they're ever going to make, but very few of them know what they can do to protect that investment and ensure that things go smoothly beyond a basic home inspection. This is where the work of people like Angela Wilson comes in, providing home warranties to make that transaction as seamless as possible.
Angela Wilson began her professional career as an engineer, but like many others who have an entrepreneurial spirit, she felt dissatisfied with the corporate jobs that her degree could mostly provide. Before she knew it, she ended up working for a home warranties company, and she grew to become one of the best in her business.
Join us today on Real Estate Excellence to listen to Angela's success story and learn how home warranties can safeguard your real estate investments.
[00:00 - 07:02] The Value of Home Warranties and Marketing With Angela Wilson 
• Tracy Hayes introduces Angela Wilson from Old Republic Home Protection, who has never been on a podcast. 
• They discuss the value of home warranties for real estate agents, homeowners, and buyers
• Angela has been in the business for 15 years and has a mechanical engineering degree from North Carolina State University.
• Angela shares her experience programming insurance software and realizing it wasn't for her, and Tracy shares his experience working at a factory in Taiwan.
[07:03 - 13:40] Old Republic Home Protection: The Go-To for Resell Market Warranties
• After realizing software engineering wasn't for her, Angela began working at 2-10 Home Warranty.
• 2-10 specialized in builder's warranties, while Old Republic specializes in resell warranties.
• Angela worked with builders and resale markets for about four or five years.
• Building relationships is crucial for an account representative.
• Tracy and Angela discuss the importance of being top of mind for referral, especially for a service that isn't strictly required for closing a real estate deal.
• The benefits of warranties for new construction.
[13:40 - 20:09] Anela's Journey Into Old Republic and The Benefits of Home Warranties
• Angela was contacted by Old Republic Home Protection to open up the Northeast Florida market in 1999.
• There was zero warranty usage in the area, but Angela was successful in educating realtors and promoting the benefits of home warranties.
• Angela secured key accounts like Prudential Network Realty and used them as a starting point to attract smaller companies.
• The benefits of home warranties include budget protection, convenience, peace of mind, marketing tool for sellers, and referral business for agents.
[20:09 - 26:48] Explaining Home Warranties In Detail and Why YOu Should Get One
• Old Republic home protection offers coverage for buyers and sellers during the listing period or before the transaction closes.
• The coverage protects their budget in case something goes wrong with repairs after home inspection.
• Coverage begins the day of closing for buyers and lasts for 30-90 days, depending on how long the house is under contract.
• Contractors are recommended by realtors and work directly with Old Republic's contractor relations department to ensure quality service.
• Seller's coverage costs $75, paid at closing, and lasts for six months during the listing period-
• Agents can use this as a benefit to attract clients and add value in a competitive market-
[26:48 - 33:23] Handling Complaints and Providing Great Customer Service
• There are different methods of placing home warranty orders (calling, texting, emailing, online)
• Emphasis on building relationships with agents
• Common complaints about home warranty companies include denials of claims, poor customer service, and delayed repairs.
• Angela talks about Old Republic's approach to handling claims and providing customer service, which makes it stand out from other home warranty companies. 
[33:23 - 40:38] Old Republic's Policies for Excellent Customer Service
• Angela Explains some of the policies that the Old Republic implements to provide great customer service:
Contractors are required to respond within 48 hours.
• Homeowners are given contact information for contractors immediately.
• If an appointment can't be set, other options are available for service.
• Home warranties have limitations and exclusions to keep prices affordable.
• Old Republic only markets to realtors, not the public, to lower costs.
• Coverage begins 30 days after payment is received.
• Service fee of $85 when contractor goes home.
• Renewal rates go up by $50-$60 after a claim is made in the first year
• Full replacement is offered with no proration or page limitations.
[40:38 - 46:57] Common Complaints in Home Warranty and How to Address Them
• Consumers often complain about high and unexpected fees in home warranties.
• Some companies limit coverage for certain items, but this is not the case with Old Republic
• Difficulty canceling policies can be due to unclear policies or unresponsive customer service.
• The company sends out reminders prior to policy expiration and prorates refunds for cancellations.
• Consumers may feel limited in their choice of contractors, but the company has a contractor relations department to ensure quality work.
• Unsatisfactory repairs can happen, but the company encourages agents to report any issues so they can be addressed.
[46:58 - 53:37] Common Misconceptions and Complaints about Home Warranty Policies
• Homeowners often assume certain things about home warranties
• Confusing policy language can lead to misunderstandings about coverage and exclusions
• The biggest misconception is that home warranties cover everything in the home.
• Real estate agents should sell the angle of budget protection to their clients.
• Non-renewal of policies can happen due to the cost or frequency of claims.
[53:37 - 01:00:00] What to Do When Clients Abuse Home Warranty Policies
• Discussion about the abuse of home warranty policies.
• Some claims are legitimate, but others may not be.
• Claims often occur within the first 30-60 days of policy activation.
• Company aims to do the right thing and help people but also has terms and conditions in place.
• Referral partners are important and offer home warranties to buyers in different ways.
• Agents buying policies pay the same price as homeowners.
[01:00:00 - 06:30] Old Republic's Home Warranty Rekeying Service for New Homeowners
• A new agent closed on a property without ordering a requested home warranty
• A plumbing pipe leak occurred the next day, and the agent reached out to their broker for help
• The warranty company honored the request and sent an emergency contractor over the weekend.
• The company is agent-centered and has a quick-fix department for minor issues within the first 14 days of ownership.
• Covered appliances include dishwashers, ovens, washers/dryers, refrigerators, air conditioning, hot water heaters, garbage disposals, ceiling fans, toilets, toilet rings, and garage door openers.
Quotes:
"Home warranty is strictly a relationship business. Just making sure that you've got those relationships that your customer, your realtor, or your affiliate has, they trust you, and you know you've got it." - Angela Wilson
 "My job is really an education process on the benefits of the warranty because there are so many benefits." - Angela Wilson
"For most people, their house is the biggest investment they're going to make: it's surely an investment worth protecting, especially at a low cost." - Angela Wilson
"It's important that agents are educated on the warranty so that they can pass that on to their buyers. And it's a win-win for everyone." - Angela Wilson
Make sure to follow Angela Wilson on social media and visit her business website, keep up with her new projects, and make her a part of your business network:
LinkedIn: https://www.linkedin.com/in/angela-wilson-23999117b/
Old Republic Home Protection: https://my.orhp.com/angelawilson
If you want to build your business and become more discoverable online, Streamlined Media has you covered. Check out how they can help you build an evergreen revenue generator all 
powered by content creation!
SUBSCRIBE & LEAVE A 5-STAR REVIEW as we discuss real estate excellence with the best of the best.