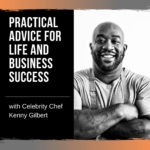 How to live a successful life that you'll love while growing a business that will profit at the same time.

This episode of the Creating a Brand Podcast is packed full of wisdom from celebrity chef Kenny Gilbert. Chef Kenny has a lot of experience in the kitchen and life. He shares practical advice for life and business success with Amy West.
Practical Advice for Life and Business Success
Chef Kenny Gilbert beat Bobby Flay; he cooks for Oprah Winfrey, and he was on Top Chef season 7 and cutthroat kitchen. He's often referred to as the beast in the kitchen.
Chef Kenny asked himself a great question "What do I want to be? What do I want the world to see me as?" He realized he needed to make an impact on people's lives. In order to do this, Kenny needed to have a strategy.
He learned that he needed to keep the main thing the main thing. For Chef Kenny, it was all about the food. Not the TV deals, not the diamond awards.
As a chef, Kenny Gilbert naturally has to be good at time-management. He has allowed his discipline in the kitchen to flow throughout his entire life. If you want to go places in life, you too must learn to control your time.

For full show notes visit creatingabrandpodcast.com